Friday, September 18th, 2009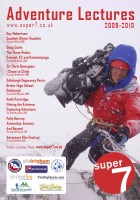 Super7 Adventure Lectures line up for events in Glasgow this winter – tickets available online.
Thursday 18th March 2010
If there is a speaker that you particularly want to see then please let us know.
Please subscribe using the box below if you want to be on our mailing list and have details of our events sent to your inbox.